5 ways to treat arthritis in the foot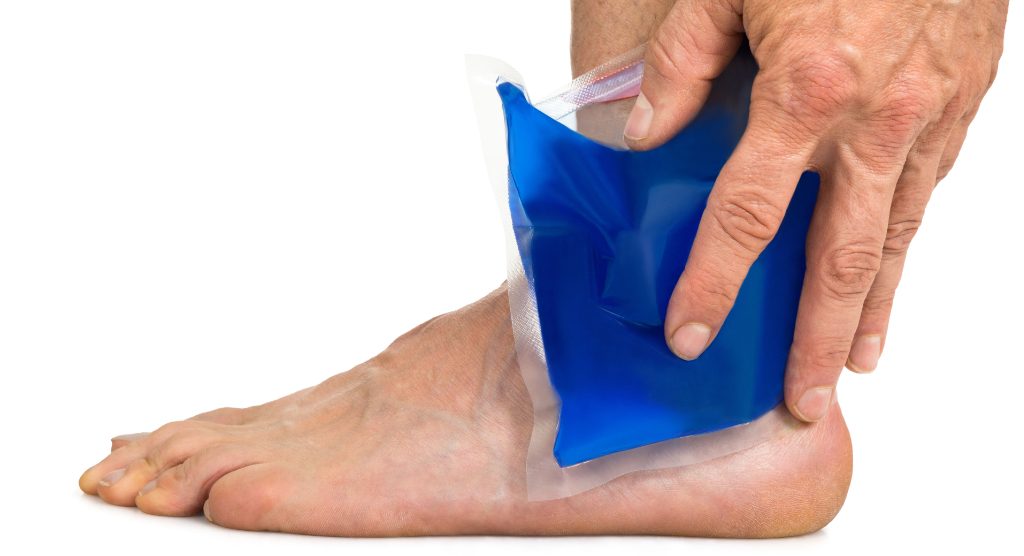 There are over 100 different forms of arthritis. When arthritis develops in the feet it can result in changes such as swollen joints or crooked toes. The foot and ankle consist of 100 ligaments, 30 muscles and 26 bones that together form 30 joints. The foot provides a stable base of support for the body to adapt to the different surfaces we walk on. The foot also acts as a shock absorber during most activities, e.g. walking, running, hopping or dancing. With each step taken, the feet bear the weight of the entire body.
Any joint in your ankles, feet and toes can be affected by arthritis. Many different types of arthritis can affect the feet and cause joint pain, swelling and stiffness. Arthritis in the feet can make standing and walking painful. You may find your feet and/or toes change shape, making it harder to fit shoes. Here are some tips to help you manage your arthritis.
Exercise
Exercise is important to keep your joints moving however you may need to try different types of exercise if you have painful feet. For example, consider exercising in water. The buoyancy of the water takes pressure off your ankles and feet and you may find you can move more freely than you can on land. For more information see the Water exercise information sheet. Strength training and cycling are also good forms of exercise that do not put extra pressure on sore feet. If you are walking or standing, make sure you wear supportive, comfortable shoes.
Weight loss
One of the best ways to take pressure off painful ankles and feet is to lose any extra body weight. Being overweight can make your symptoms worse as your affected joints need to carry more weight. See the section above for tips on exercise if you have arthritis of the feet. You may find it useful to see a dietitian for advice about healthy eating.
See a podiatrist
Podiatrists specialise in conditions affecting the feet. They can help you with advice about footwear, nail care and orthoses (inserts for your shoes that may help reduce foot pain). Details of foot management at home and exercise techniques to improve the condition can be given to you.
Footwear
The most important thing you can do to protect your feet is to wear supportive shoes that fit your feet properly. Keep these tips in mind when buying new shoes.
Ask a podiatrist for help in choosing the right shoe and size. Remember, your shoe size may change if your feet are affected by arthritis.
Try shoes on with any insoles or orthoses you normally wear. Some orthoses may need extra depth, particularly in the toe area.
Your toes should not touch the end of your shoes as your toes or nails could become damaged. Make sure there is a 1cm gap at the end of your longest toe.
Look for shoes with synthetic or rubber soles for better grip and shock absorption.
Look for shoes that can be secured on to your feet with laces and straps. Fastenings that may be easier to do up include Velcro, elastic shoelaces and zips.
Heat and cold
Applying heat, such as a hot pack (microwaveable wheat pack), heating pad or hot water bottle, to stiff, painful joints may help relieve these symptoms. If your joints are hot and swollen you may find it useful to apply an ice pack. Try applying heat or cold to the painful area for 15 minutes. Always have a layer (such as a tea towel) between your skin and the heat or ice pack.You can repeat this whenever you need to throughout the day. Make sure the temperature of the skin returns to normal in between applying heat or ice packs to prevent damage to the tissues.