At our clinic in Watford, lip augmentation with fillers is the most popular cosmetic procedure requested and Dr Minal Amlani has spent many years of training and practice perfecting this techinique.
The Assessment
A free consultation is offered where we can discuss the options available to you for lip fillers. We aim to achieve a natural looking result which compliments your face.
The ancient greeks invented the 'golden ratio' where the lower lip is approximately 1.6 times thicker/bigger than the upper lip. This is not the same for everyone but can be used as a guideline to achieve a balanced and natural look.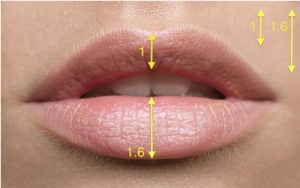 As we age this proportion changes causing volume loss and thinning of the upper lip as well as flattening of the 'cupid's bow'. Factors such as smoking, dehydration, sub exposure and dental treatment can affect how the lip shape changes.
Volume loss in the cheek also occurs and the cheeks move downwards causing lines between the nose and mouth (nasiolabial lines) and at the corners of the mouth (marionette lines). These are all the areas which we aim to correct to give the lips and the area around it a more youthful appearance.
How long to fillers last?
The filler will usually last between 2-4 months (depending the amount of filler used). Lip fillers aim to rehydrate the lips and therefore are affected by the presence of water in the area. If you are dehydrated, exercise often, drink coffee and smoke they will last a much shorter amount of time. We would recommend that lip fillers are considered as a temporary measure to create a rejuvenated, plumper look for special occasions.
Does the treatment hurt? 
An anaesthetic numbing cream will be placed in the area to be treated 20-30 minutes before the treatment is carried out. We use a blunt needle to rejuvenate the area with fillers which does not cause pain. It is normal to expect some bruising and swelling in the area but with careful injection technique and aftercare this can be kept to a minimum. It is recommended that you wait at least a week after the filler is placed before you attend a special occasion.
We will invite you to attend for a review after a few weeks where we can assess how the filler has worked for you